MEDALLION
Medallion one of our high-end cabinets. With a huge variety of cabinets, from traditional to contemporary, with dozens of colors, stains, woods, materials and accessories to choose from, you can build your dream kitchen just the way you want it.

---
MID CONTINENT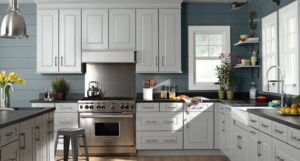 Like all the cabinet brands we stock, Mid Continent Cabinetry comes in a range of styles, colors and so on, but they specialize in modern, affordable and stylish cabinet types.
---
CRYSTAL CABINET WORKS
Crystal Cabinetry has an incredible assortment of options to choose from, all put into practice by skilled craftsmen who build their cabinets with care–just for you.