Trex Composite Decking
Western Building Center is the largest supplier of Trex composite decking in Northwest Montana. Find a Western Building Center location near you. Locations.
High performance composite deck boards are engineered to eliminate the need for time consuming maintenance and upkeep of your deck. Stain and color resilience results in your decking looking new for years into the future. PVC protective shell provides Trex Composite Decking with the scratch resistance and easy soap and water cleaning. A 25 year warranty to include stain and fade resistance makes Trex the industry leader when it comes to warranty.
Western Building Center stocks a good, better, better, best line up of Trex composite decking.
See our Deck from the 2020 FBA Home and Garden Showcase. Link
Trex Enhanced Basics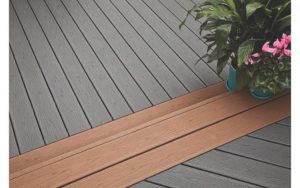 Priced to be in direct competition to treated lumber decking. In three solid colors, Enhanced Basics provides the durability of composite decking at the price of basic wood decking.
Trex Enhanced Naturals
5 multi-toned nature inspired colors adds an authentic wood grained appearance to high performance of Trex composite decking. Trex Enhanced Naturals and Basics are compatible with the Trex Hideaway hidden fastener system for precision installation. The dimension of Trex enhanced is 1" thick and 5-1/2 " thick. Available in solid and grooved edges. Call your local WBC to find out what lengths they may be stocking.
Trex Select Decking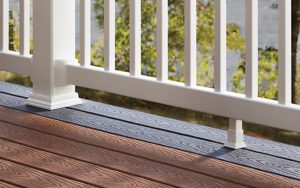 Trex Select decking and railing Is Trex in its simplest form. White Trex Select railing complements the 5 natural decking colors. Mix and match colors to make a beautiful designed deckscape. High performance shell technology gives the Trex Select board the durability and maintenance free performance. Trex select is ⅞" x 5-½" Grooved boards available to accommodate the Trex Hideaway concealed fasteners. Available in 12',16' and 20' long, check with your local Western Building Center to find out stocking lengths and colors.
2020 Home and Garden Showcase deck

Trex Transcend
Trex composite decking with a premium ageless look that sets the standard for composite decking.  Deep wood grain and the thickest protective shell, Transcends decking is the most durable of the Trex decking lineup.  No sanding, No Staining, No painting. No maintenance decking Simple soap and water cleanup makes Trex composite decking the Hassle free decking of 2020.  Available from Western Building Center in 5 two tone colors called the Tropics and 5 colors in traditional Earth Tones. 1" x 5-½" boards in 12,16,20'. Groove and square edge design will allow for the use of the Trex Hideaway fastener system. 
Western Building Center is the largest supplier of Trex Composite Decking therefore we blivet that we should also have the largest delivery fleet to deliver your Trex Decking.  Learn more about our delivery Here. LINK
Trex Hideaway Fastener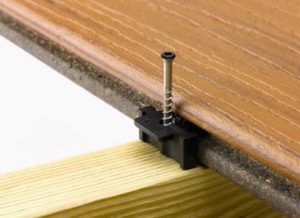 All Trex decking lines come with the hidden fastener installation option therefore the perfect deck can be built.  The Trex Hideaway fastener uses a stainless steel screw pre-installed into the perfect spacer holding the decking down to either wood framing or metal joist systems.  The universal fastener is available in a 50 square foot box or a bucket that will cover 500 square feet. The second component of the Hideaway system is the Start clip designed to be the first piece of hardware installed to start the deck with a concealed fastener.  In a bag that will cover a typical 400 square foot deck.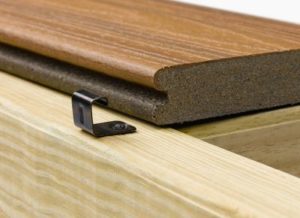 UNMATCHED WARRANTY COVERAGE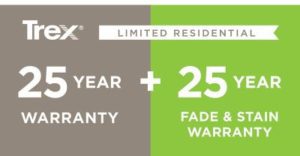 Trex decks will not rot, warp, crack or be devoured by termites. Period. In fact, while all of our decking and railing products offer a 25-Year Limited Residential Warranty against material defects, our high-performance lines add an additional layer of coverage with our 25-Year Limited Residential Fade and Stain Warranty. Read details on our warranties.
FORTRESS RAILING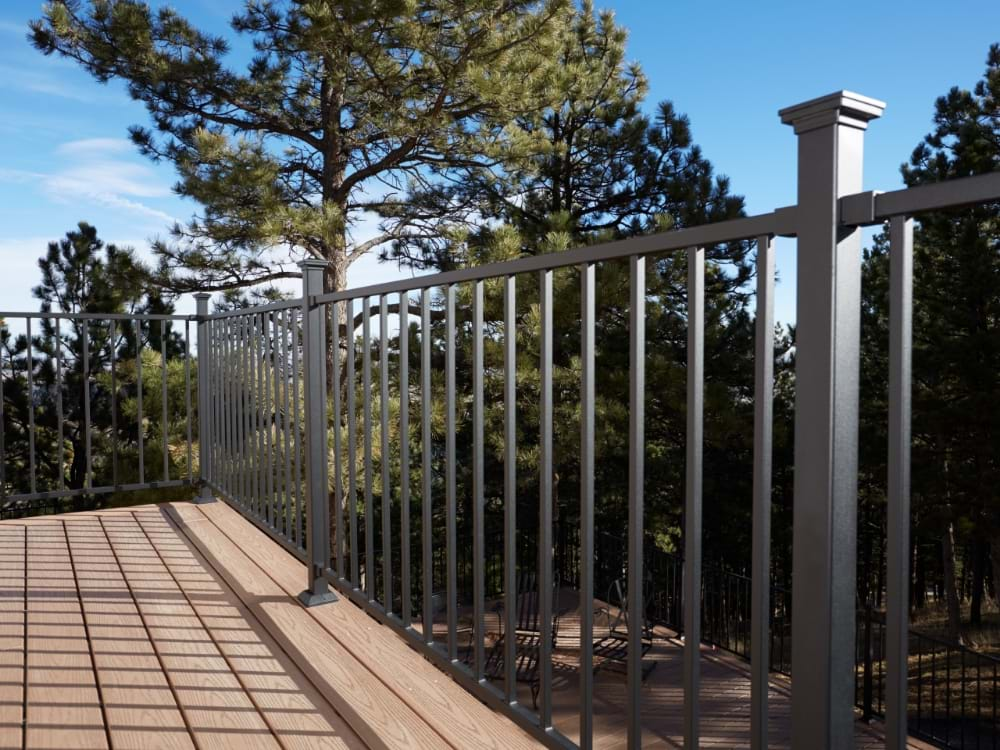 At Fortress, we hold our products to a higher standard—five of them, in fact. As part of our commitment to providing our customers with beautiful, reliable railing, we ensure that each of our products meets the criteria outlined in the Fortress™ Five:

We coat our products with durable, multi-layered anti-corrosion coating technology adapted from the high-end automotive industry. This translates into virtually maintenance-free and long-lasting railing products.

Fortress is focused on and committed to manufacturing the strongest railing systems on the market. We are proactive in having our products tested to meet or exceed codes for various single, multi-family and commercial applications.

Fortress is an industry leader with innovations like our proprietary pre-welded panel systems and modular caps and lighting system. We are committed to designing groundbreaking products to enhance the decking and railing industry. Why? Because they ultimately transform outdoor spaces.

We offer a full range of railing product lines each of which can be customized. With limitless combination possibilities, our railing is ideal for any project.

We design our railing products for easy installation with simple to use bracket systems and installation components. This approach drastically reduces installation time.